For Face & Brows
Gently exfoliate with our Dermaplaning Wand, and expertly shape perfect brows and remove facial hair with our bestselling Touch-Up, multi-zone Perfect Finish, and Easy Control Sugar Wax Wand.
Shop Now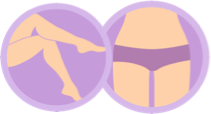 For Legs & Bikini
Keep your legs silky-smooth and your bikini zone on point with the versatile TrimStyle® and Perfect Finish trimmers, refillable or disposable Hydro Silk® razors, and our easy-to-use Wax Roller.
Shop Now
For Legs & Underarms
Master those tricky areas with Hydro Silk® razors featuring 5 Curve Sensing® blades and Hydra-Boost™ hypoallergenic moisturizing serum, and our gentle, easy-to-use waxes and hair removal creams.
Shop Now
Want to learn more about dermaplaning or waxing?
Professional-quality results from head to toe